Update, September 28: The local government has indicated that the closure of K0155 ("Frog Road") near the A81 on-ramp and the Sindelfingen-Ost exit will begin on October 3. The construction closure of Leibnitzstrasse is expected to take until the end of November.
Story by USAG Stuttgart Public Affairs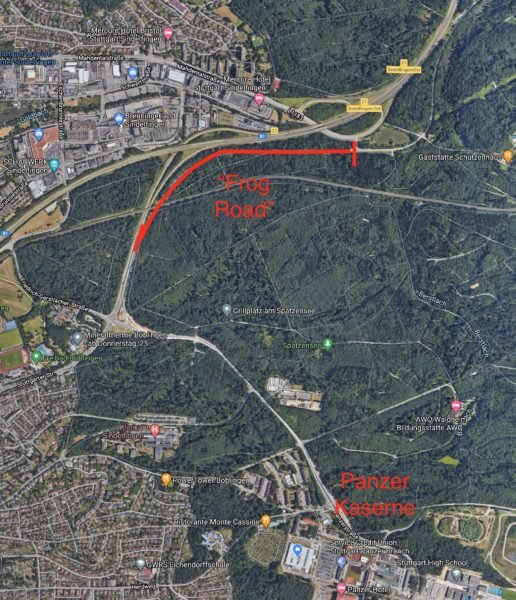 K1055, Pascalstrasse aka "Frog Road" will be inaccessible from the A81 on ramp for at least 9 months.
If you are a commuter between Sindelfingen and Böblingen, or if you use the K1055, Pascalstrasse, known locally as the "Frog Road" to commute between Patch Barracks and Panzer Kaserne, major construction will likely affect your commute for the next nine months. Böblingen local authorities provided us with the following information.
Pascalstrasse aka "Frog road" closure
Frog Road is one of the main commuting roads between Patch and Panzer. Construction has already begun to disrupt traffic. Workers are building two new roundabouts and placing another bridge.
The project is expected to last nine months and will close part of Frog Road, in both directions, on the Böblingen side.
Starting Sept. 25, drivers heading toward the autobahn from Panzer Kaserne will be unable to turn right onto the Frog Road from the traffic lights at the A81 on ramp. Drivers may get on the A81, leave at the Sindelfingen Ost (the next exit), and navigate around the closure back to Frog Road.
From Vaihingen (Patch), drivers  can use the Frog Road, up until the autobahn sign, turn right at the closure, then left at the light, to access the A81 southbound. Depart immediately onto the Böblingen Ost exit to access to Panzerstrasse – heading toward Panzer Kaserne. (see map, right),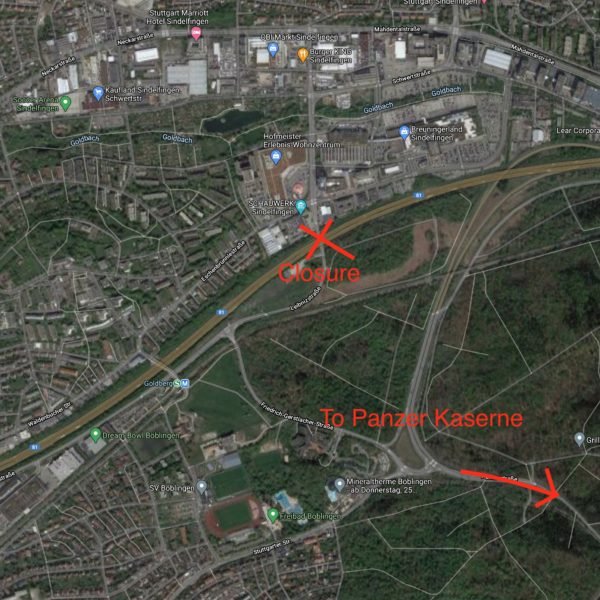 Sindelfingen and Boblingen connection closure
The Leibnitzstrasse closure will affect commuters between Sindelfingen and Boblingen
Due to construction work, Leibnitzstrasse – one of the main connections between Sindelfingen and Böblingen  – has closed for the foreseeable future.
The closure blocks Leibnitzstrasse from the junction with Friedrich-Gerstlacher-Strasse and Tilsiter Strasse and prevents access from Böblingen to "Breuningerland" and other shops or facilities on Mahdentalstrasse in Sindelfingen. This includes nearest Esso station, Marriott Hotel and KFC, etc. Driving from Panzer Kaserne, motorists can still access the Böblingen Mineral Therma and Goldberg train station.
To get around this closure, follow detour route "U1." This will take you through Böblingen and back into Sindelfingen.
Driving from Sindelfingen to Panzer Kaserne, follow the detour sign of "U2" to the opposite side of the Goldberg train station parking. From there, you can get back to Panzerstrasse.