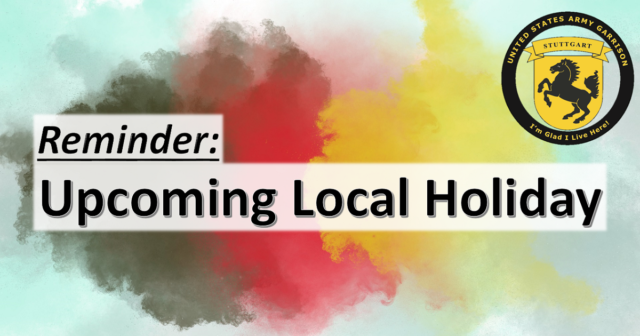 Be aware of upcoming holidays
🌐📞 If you're not sure whether a service will be open, check their page on the USAG Stuttgart app or garrison website. If an office closes or adjusts availability on German or training holidays, this will be noted there. For further questions, please contact the service directly.
Oct. 3 – German Unity Day
This coming Tuesday, Oct. 3, is German Unity Day, a public holiday in Baden-Württemberg and across the country.
📌 This means some services around the garrison staffed largely by local national professionals will be closed, including the Army Housing Office, Driver Testing Office, and Vehicle (POV) Inspection/Customer Service Team.
Vehicle Registration will be serving appointments only, with no walk-in service.
📌 Assume that most places on the economy which are usually closed on Sundays will also be closed on the holidays. This includes most grocery and retail stores (Commissaries and Exchange-operated facilities will be operating with normal hours). Culture/leisure/tourist-focused activities will generally be open.
Oct. 6 – USAREUR/AF Training Holiday and CYS Training Closure
Friday, Oct. 6, is a training holiday for personnel falling under U.S. Army Europe and Africa.
Some services staffed primarily by Soldiers, such as the Stuttgart Law Center, and Originals Café, will be closed, while others, such as the U.S. Army Health Clinic Stuttgart, will remain open.
This is also a training closure day for Stuttgart Child & Youth Services facilities.
Oct. 9 – Columbus Day (U.S. Federal Holiday)
Most garrison services are closed on U.S. federal holidays. Facility-specific operating hours for Family & MWR may be found at https://stuttgart.armymwr.com/. Exchange facilities may have special operating hours (please check this page and the garrison/Exchange Facebook pages for further updates).
Patch and Panzer Commissaries will be open from 9 a.m. – 5 p.m., while Kelley Commissary will be open from 11 a.m. – 7 p.m. Robinson Commissary is closed.
Duty buses run on a weekend/U.S. holiday schedule.