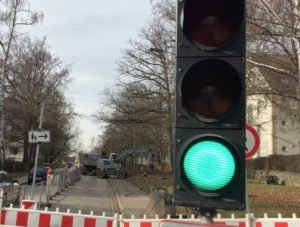 Paul Hughes
USAG Stuttgart Public Affairs
The tearing up of Montana Street to install greener, more efficient heating systems has been ongoing since Jan. 7 and is now set to finish ahead of schedule, according to Ty Jones, Patch Barracks' installation coordinator.
"Progress is moving right along. The good weather and faster than expected construction progress means we are expecting to be done before the end of February, as long as the weather holds out," Jones said.

A map showing the new construction location on Patch from Jan 28th.
In order to begin the next phase, the temporary lights on Patch Barracks will move again further down the road, closer to K&K gate beginning at noon, Jan. 28.
Virginia Weg will become free-flow and Kansas loop will re-open. The first signal will move to the crosswalk that leads to Bldg. 2301, closest the K&K gate, and the second will be just past the crosswalk leading to Bldg. 2303. Bus stops remain at Washington Square.
The construction, originally scheduled for three phases, is now two. That means less traffic disruption for the community, said Tobias Pruefe, civil engineer with DPW engineering division.