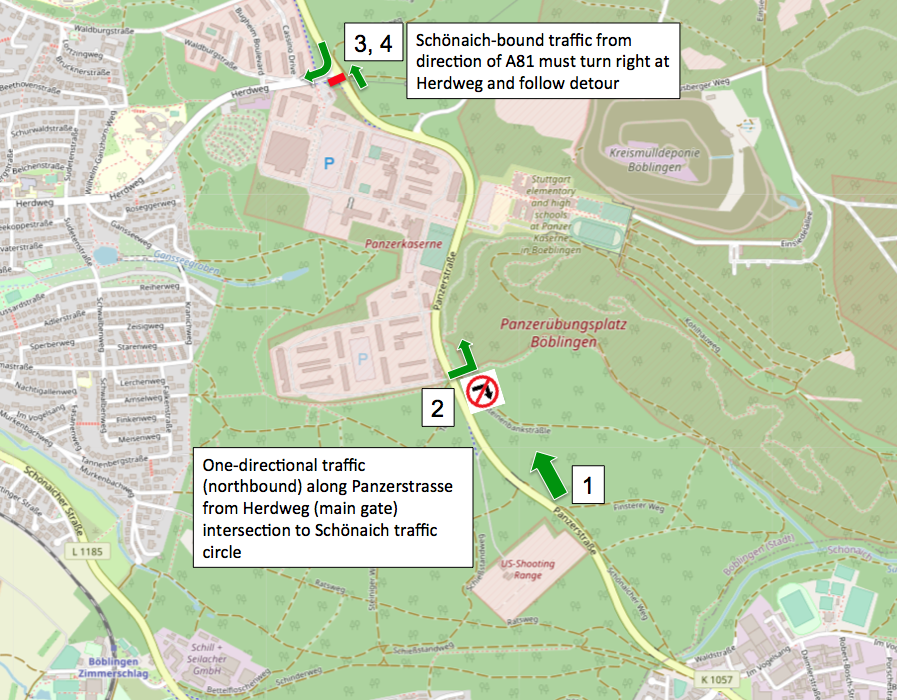 USAG Stuttgart Public Affairs
A scheduled Böblingen County construction project along Panzerstrasse, adjacent to Panzer Kaserne, may create traffic issues as one of the two lanes on the street will be closed to traffic from May until October. The exact start date of the project has not yet been determined.
The expected impacts at this time are as follows (and are indicated on the map above):
1: Traffic on Panzer Strasse going from the Schönaich traffic circle toward A-81 will flow uninterrupted.
2: The Panzer Kaserne back gate will continue its current operating hours; however, all traffic leaving the Panzer back gate will be required to turn left toward the direction of A-81.
3: Traffic on Panzer Strasse going from A-81 toward Schönaich will have to turn right at the intersection of Hedweg and Panzer Strasse and will be re-routed through the residential areas of Böblingen to Schönaich .
4: Panzer Strasse from the intersection of Hedweg toward Schönaich will be blocked until October.
Although the project is being planned and executed by the local government, the garrison is coordinating with local officials throughout its duration to keep our community informed of potential impacts.
The route and schedule of the 734 bus, which connects Schönaich with Goldberg S-Bahn station by way of Panzerstrasse, will be affected during the construction period. Buses will continue to serve the Panzerkaserne bus stop in the direction of Goldberg, but buses will not be able to pick up from Panzerkaserne and head toward Schönaich due to the one-way direction of traffic.
Bus passengers heading to Schönaich from Panzer Kaserne should check their VVS/SSB/DB apps for the best routing at their time of departure (Google Maps does not appear to reflect the schedule change). At a minimum, riders can pick up the bus from the stop on the opposite side of the street from the installation, in the direction of Goldberg, and remain on the bus as it will travel directly to Schönaich after departing the area of Goldberg station. Click here to view the adjusted 734 bus timetable from VVS (pdf format).