Story by USAG Stuttgart Public Affairs Office
On May 10, barriers will be put in place and the traffic flow along Panzer Strasse that parallels Panzer Kaserne will go from a two-lane to a one-lane street. A Böblingen County construction project along Panzer Strasse will cause the following traffic situations to occur: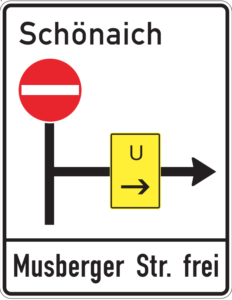 Traffic on Panzer Strasse going from the
circle toward A-81 will flow uninterrupted. (See attached traffic flow chart.)
Traffic on Panzer Strasse going from A-81 toward Schöniach will have to turn right at the intersection of Herdweg and Panzer Strasse and will be re-routed through the residential areas of Böblingen to Schönaich. (See attached rerouting diagram.)
Panzer Strasse from the intersection of Herdweg toward Schönaich will be blocked off until October.
The Panzer Kaserne back gate will continue its current operating hours; however, all traffic leaving the Panzer back gate will be required to turn left in the direction of A-81.
Entrance onto Panzer through the main gate will remain the same; however, due to all traffic coming up Panzer Strasse from A-81 having to turn onto Herdweg, motorists can expect delays getting onto and off of Panzer through the main gate.
Any motorist wishing to go toward the recycling site and the residual waste heating and power plant must also use the official detour.
This is the first of three separate phases of the construction along Panzer Strasse and Herdweg.
To get through to Schönaich, you need to follow the yellow detour signs marked U
The route and schedule of the 734 bus, which connects Schönaich with Goldberg S-Bahn station by way of Panzerstrasse, will be affected during the construction period. Buses will continue to serve the Panzerkaserne bus stop in the direction of Goldberg, but buses will not be able to pick up from Panzerkaserne and head toward Schönaich due to the one-way direction of traffic.
Bus passengers heading to Schönaich from Panzer Kaserne should check their VVS/SSB/DB apps for the best routing at their time of departure (Google Maps does not appear to reflect the schedule change). At a minimum, riders can pick up the bus from the stop on the opposite side of the street from the installation, in the direction of Goldberg, and remain on the bus as it will travel directly to Schönaich after departing the area of Goldberg station. Click here to view the adjusted 734 bus timetable from VVS (pdf format).
Additional information about the construction project and any change to the traffic flow will be shared with the community as it becomes available to the USAG-Stuttgart Public Affairs Office.