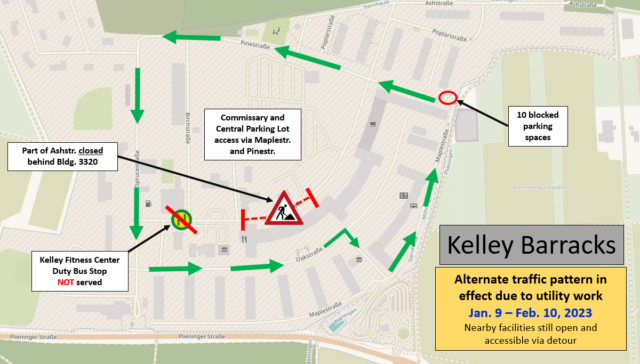 Information provided by U.S. Army Garrison Stuttgart Directorate of Public Works
A temporary traffic pattern will be in effect on Kelley Barracks from Monday, Jan. 9, through Friday, Feb. 10, 2023, due to the closure of a section of Ashstrasse for utility work.
Ashstrasse will remain open on both ends while a section behind building 3320 is blocked for excavation and piping work. Facilities such as the Kelley Fitness Center, Child Development Center (CDC), and Commissary will still be accessible, but a detour is in place via Maplestrasse due to the need to safely accommodate heavy construction traffic. For the same reason, approximately ten parking spaces at the corner of Maple and Pine streets will be temporarily unavailable.
The Duty Bus stop opposite the Kelley Fitness Center will NOT be served during this period. Stops outside the Commissary and Kelley Hotel (AFRICOM 1 & 2) are unaffected.
Signage will be in place to inform drivers of the detour. As always, please drive carefully and allow extra time for traveling to/from locations on Kelley Barracks during this period.